February 27th, 2018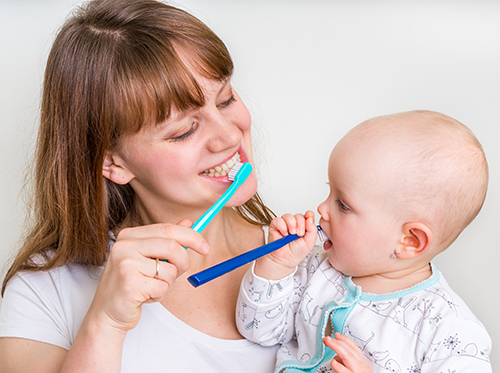 We know how frustrating it can be to discover your child has one or more cavities when you come to visit Richland Dental. There are several ways to prevent baby teeth from forming cavities due to decay. Not to worry: If your child does develop a cavity on a baby tooth, Dr. Hilary Craddock and Dr. Joyce Pace can help take care of the problem.
Let's look at how cavities on your little one's teeth can be prevented from developing in the first place. Most often, children suffer decay from eating sugary foods. You may think, "My child doesn't eat lots of candy!" In truth, fruits and juices have plenty of natural sugars that can break down teeth if they aren't brushed thoroughly.
A well-balanced diet that includes calcium and phosphorous is necessary to keep your child's oral health in a good state. If your son or daughter drinks juice, avoid giving it before bedtime and dilute the juice with water. Good options for snacks include vegetables, low-sugar yogurt or dairy products, and plenty of milk for healthy teeth.
Another excellent preventive strategy consists of scheduling regular appointments with Dr. Hilary Craddock and Dr. Joyce Pace for your child. Between your youngster's annual cleanings, make sure he or she brushes and flosses every day. It's worthwhile for your little one to brush thoroughly for at least two minutes to remove any decay or plaque that has accumulated in the mouth, especially before bedtime.
Brushing Techniques
Move the brush both back and forth, and in circular gentle strokes.
Brush the outer surfaces, inside surfaces, and chewing surfaces of all teeth.
Place the toothbrush at a 45-degree angle to the gums.
Brush the tongue to remove excess bacteria and keep breath fresh.
It's not always possible to prevent cavities from appearing in your son or daughter's mouth. If your child does develop a cavity, our staff will notify you during the regular scheduled cleaning.
The cavity will need to be eliminated, even when it appears on a baby tooth. Our staff will remove the decayed part of the tooth and fill in the hole so your child doesn't have to experience any pain.
You may wonder why a baby tooth has to be fixed if it is eventually going to fall out. Baby teeth hold spaces where your child's permanent teeth have to grow in. If the former aren't taken care of, multiple teeth may shift and the permanent ones won't be able to grow in properly.
If you still have questions or concerns about your child's baby teeth, or notice signs of a cavity, please don't hesitate to contact our Richland, MS office and schedule an appointment. Remember, preventive steps can be taken to avoid bothersome cavities from forming in your child's mouth.